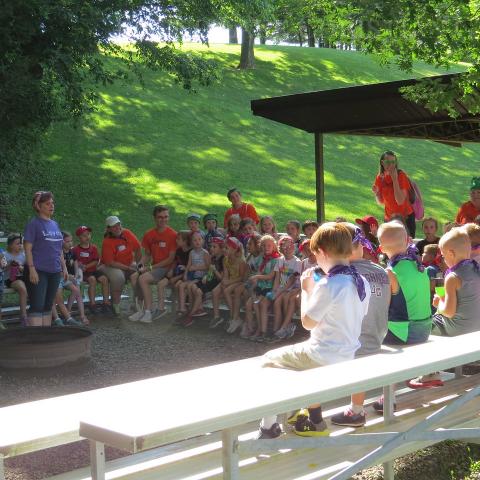 This session has reached maximum capacity for online registration. We currently have room to register 1 female camper. While 0 spaces are available for boys, you may mail in a registration form to place a boy on the waiting list. 
The remaining spot for a girl will be filled on a first-come, first-served basis by paper registration only based on earliest postmark date. To register your camper, please mail a paper registration form along with your $10 deposit (your payment will only be processed should your camper receive a spot) to the camp to the following address:
2nd-3rd Grade Girls
114 State Route 3
Lakeville, OH 44638
Note: This is a Camp Side session, located at 114 SR 3, Lakeville, OH 44638
A great first-time overnight camp experience that shows campers they can do big things for God even as kids. Enjoy camp at its finest; splashing in the water, sliding down the giant water slide, playing crazy games and meeting new friends.
Please note that you may choose to enroll your 2nd grade student in either the 2nd-3rd Grade Overnight Camp or a 1st-2nd Grade Day Camp. However, our staff recommends just signing up for one or the other since much of the programming between the sessions is identical. This overlap allows parents of 2nd graders to choose whether or not their camper is ready for the overnight experience, making either a day camp or an overnight camp an option. 
*SPECIAL OPPORTUNITY! Reserve your camper's spot with just a $10 deposit (with remaining tuition due no later than 3 weeks prior to the event start date)! This offer will be available for a limited time only and is subject to change at the discretion of the camp management.