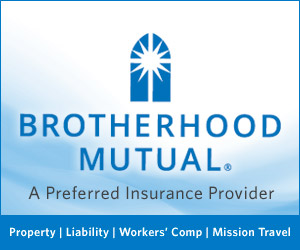 Brotherhood Mutual Resources for Churches
About Brotherhood
Brotherhood Mutual Insurance Company® is one of the nation's leading insurers of churches and ministries. In business since 1917, Brotherhood Mutual provides property, liability, commercial auto, workers' compensation, mission travel insurance and payroll services* to ministries throughout the United States, including:
Churches
Church day nurseries
Christian camps
Schools
Association/denomination offices
Colleges and universities
Other related ministries
Brotherhood Mutual is represented by independent agents who subscribe to a code of ethics based on scriptural principles and serve in churches and ministries of their own. The company consistently earns an A (Excellent) rating from A.M. Best, a leading authority in rating insurance companies. For more information on Round Lake's partnership with Brotherhood and how your church might benefit, please see our camp manager's letter to our churches available to download at the bottom of this page. 
*Payroll services are provided through MinistryWorks®, a subsidiary of Brotherhood Mutual Insurance Company.
Camp and Church Resources from Brotherhood
Member Church Events Open to the Public
Events on this page are hosted by Round Lake's member churches. We are pleased to offer this platform on which our member churches can open up their events to others. Since these are church-sponsored rather than camp-sponsored events, please contact the individual church hosting the event rather than the camp. If you are a member church and would like to share an event on this page, please contact the camp office. 
There are no upcoming member church events open to the public at this time.