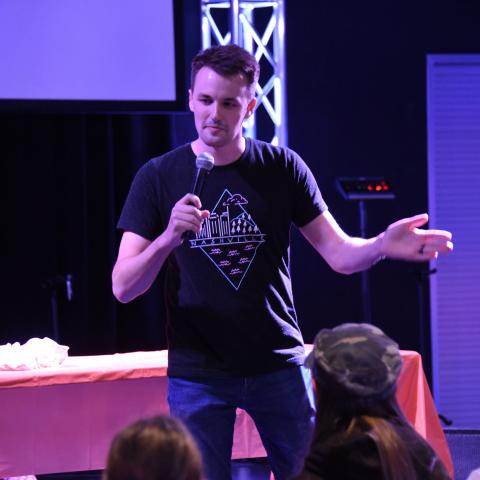 June 28 Update: This session is closed for girls, but there is room for an additional 5 boys to register. Boys may be registered during check-in on Sunday, June 30 as walk-on campers. The final spots will be filled on a first-come, first-served basis starting at 5:30 pm. If you plan to register a boy as a walk-on camper on Sunday, please notify the dean, Luke Borton, at luke.borton@westervillechristian.org. To ensure a smooth check-in experience, please bring a completed registration form along with full tuition with you to check-in. The registration form may be downloaded HERE. Please be advised a $25 late fee applies to all walk-on campers. 
Interested in registering a girl? Even though this session is full for girls, we still have room for girls in the following session:
7th-9th Grade Camp Four, July 28-August 2
There are also several 7th-9th Grade sessions available at our Wilderness Camp.
Pizza will be available for campers for this camp session on Sunday evening, so you do not need to feed your camper prior to check-in.
Camper Letter available to download at the bottom of this page.
Note: This is a Lodge Side session, located at 2678 SR 179, Lakeville, OH 44638 
Students experience an intense encounter with God's Word in the midst of extreme fun. Dive in to dynamic worship, personal small group studies and intense devotions. Enjoy some extreme fun playing gaga ball, defending the fort playing laser tag, getting blasted off the BLOB in the lake, tubing behind the jet-ski and screaming down the waterslide. 
A note from the dean: 
Summer Camp is the best week of summer! Our team wants this week to be an experience where students cannot stop talking about how much fun they had and how much Jesus has done in their life!

 

This week is fun. The mornings are filled with crazy games and the goofiness of The Morning Show. Afternoons are full of laser tag, jet skiing, rock wall climbing, and more! Each evening has a different activity… but we don't want to spoil those yet.

 

This week is also impactful. We will be teaching about who Jesus says we are in the mornings and diving into the book of Colossians each night. When we worship, we do things real big!

 

More details to come! Register while spots are still available!