Online registration is now open! Paper registration form available to download at the bottom of this page. Check-in will run from 8:30-9:00 am in the lobby of the Retreat Center.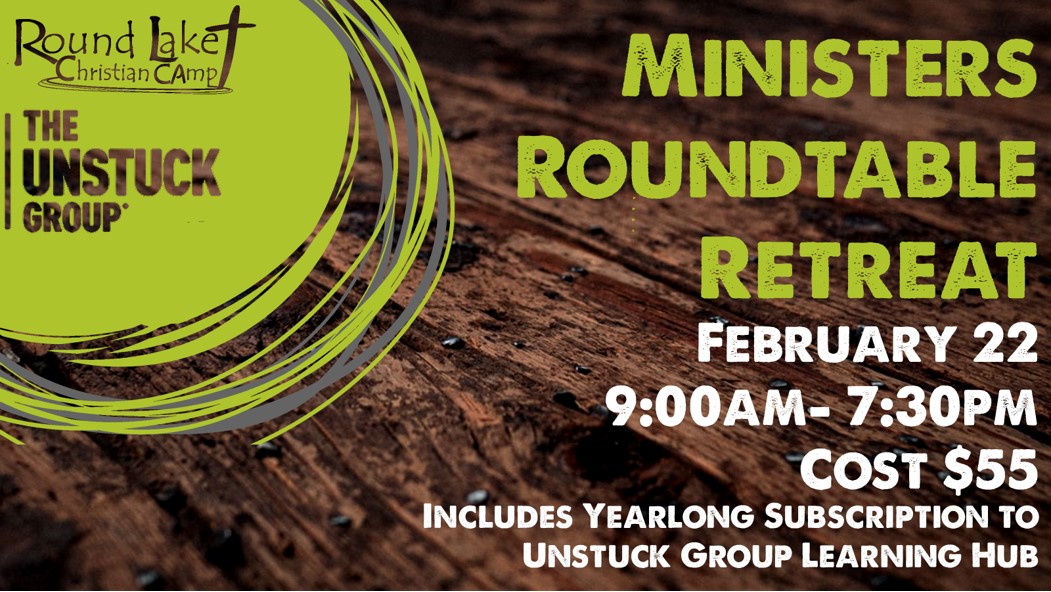 Attendance Options
You have two options when registering for this event:
1) Full Retreat: Attend the full event from 9:00 am-7:30 pm. Cost is $55 and includes lunch, dinner and access to the Learning Hub.
2) Roundtable Only: You can also register for just the afternoon roundtables (3:30-7:30 pm) for $20. This includes dinner.
About the Retreat
The Ministers Roundtable Retreat is designed to help equip and encourage the ministers in our local church. Beginning at 9:00 am, we will host a conference presented by The Unstuck Group. The Unstuck Group is a church consulting group that specializes in helping pastors grow healthy churches by guiding them through experiences to align vision, strategy, team and action. You can read more about them on their website at www.theunstuckgroup.com. The conference will last through lunch with discussions to follow. Attendance at this event gives you free access to the Unstuck Group's Learning Hub (a $600 value of courses and resources to help your church).
When the conference is over, attendees will move to a time of roundtable discussion where ministers who serve in a variety of roles can share stories, offer encouragement and brainstorm for the upcoming year. This is a chance to process and apply the information presented in the conference and to encourage fellow ministers. Depending on attendance, we plan to host roundtable groups for senior ministers, associate ministers, youth ministers, worship ministers and children's ministers. Our roundtable discussions will last until dinner (5:30 pm).
Following dinner, we will have a brief time of prayer and worship together before dismissing for the evening.
Questions about the event? Please contact Josh Robinson at josh@doverfcc.com.