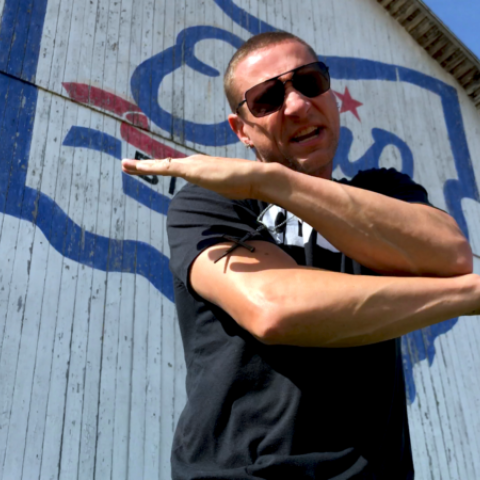 Paper registration and poster available to download at the bottom of this page!
Retreat Overview
Enjoy an evening of fellowship at Round Lake! The Men's Dinner is a Friday evening event featuring a steak dinner along with compelling teaching. Dinner will be served on Friday night from 4:30-6:30 pm, with the first session beginning at 6:30 pm. The main event will run until about 9:00 pm, at which time participants are welcome to stay later for additional snacks, desserts and fellowship in the Dining Hall following the conclusion of the program. 
For those who enjoy golfing, golf will be available leading up to the retreat on Friday at the Round Lake Golf Course. For those who prefer use of a cart, carts will be available to rent. Golf will be free that day for those walking who are registered for the Men's Retreat. 
Worship: The Bean Boys
Speaker: Dan Smith
Dan Smith, a.k.a. "The Replacement Beastie," is a rapper, storyteller-preacher and comedy-writer. Smitty was born and raised in the Buckeye State, but he didn't grow up in a religious home. His family literally never went to church – which gives him a pretty unique perspective on faith.
In 2005 he led the team that started Momentum Christian Church – a multisite "church for people who don't like church" – in Cleveland, OH. He's a nationally-known speaker who uses vivid parables, creative videos, live music and comedy to teach students adults about character, leadership, wise choices and Jesus. Smitty's music has been seen on CNN, Yahoo!, VH-1 and many other less-cool shows. His wife, Shannon, and three kids (Zion, Azlan and Journey) all find him mildly funny. He enjoys weight lifting, running, photobombing, daddy dates with his kids, NFL football (Browns & 49ers), NBA (Cavs), Ohio State football, creepy movies, Halo & Destiny on Xbox, audiobooks (and books you can touch), Star Wars, pad thai, York Peppermint Patties and theatre popcorn with fake butter. For more information, visit his website at www.whiteboydj.com.
*Register early and save! Registrations submitted online up until 11:59 pm on Friday, April 26 are eligible for the early bird rate. Registrations must be postmarked Friday, April 26 or earlier to qualify for the early bird rate. After that time, a $10 late fee will be added. Price above reflects the discounted rate.