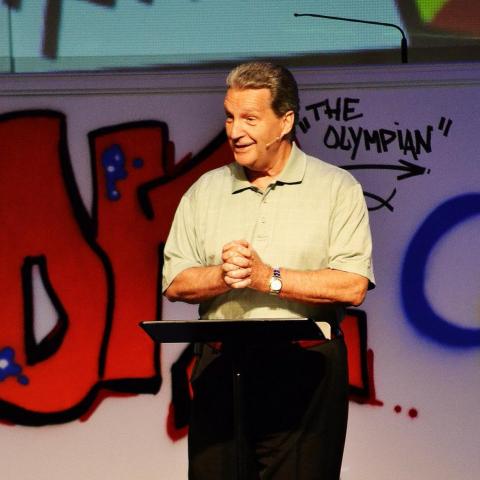 Paper registration form available for download at the bottom of this page. Enjoy a day of fellowship, learning and food with your friends at Round Lake Christian Camp. Open to ages 55+.
Speaker: Dr. David Roadcup
Dr. David Roadcup is Professor of Discipleship and Global Outreach Representative for TCMI International in Indianapolis, IN. He has been in ministry for over 50 years. Besides youth ministries, senior/preaching ministries and college/seminary teaching through the years, Dr. Roadcup has authored numerous articles, three books and has tri-authoring a series of six books on the eldership of the church. He has spoken in 37 states and 18 foreign countries. As one of the founding members of the men's ministry Promise Keepers, he served on the Board of Directors for 11 years. In 2001, he was on the summer P.K. Men's Conference Speaking Team. He is presently on the Board of Directors of Christ in Youth in Joplin, Missouri (C.I.Y.) and the Board of Directors of Christian Arabic Services (C.A.S.). He has been married to Karen for 50 years. Dave and Karen have two married daughters and four grandchildren. He is Adjunct Professor in the Seminary at Cincinnati Christian University and Adjunct Professor in the D Min Program at Lincoln Christian University, Lincoln, IL. Dave works in the areas of relational discipleship, church growth and health, evangelism, spiritual formation and leadership in the church. His great passion lies in discipling believers and helping Christians grow to deeper levels in their personal walk with Jesus Christ.
Education
Bachelor of Arts in Christian Ministries, Lincoln Christian College, 1969
Secondary Teaching Certification in Speech Communication, Illinois State University, 1971
Master of Arts in Pastoral Counseling, Cincinnati Bible Seminary, 1986
Doctor of Ministries, Trinity Evangelical Divinity School, 2006
Fall 2018 Schedule
Check-in will run from 9:15-10:30 am with a hot breakfast in the Dining Hall. You are NOT required to arrive at 9:15 to check-in. Rather, you may arrive anytime between 9:15-10:30 am for check-in. Retreat ends at 4:30 pm with a banquet.
9:15 am- Registration & Full Breakfast
10:30 am- Relocate to Retreat Center
11:00 am- Welcome with Ray Linn & Music with Dave Mason
11:30 am- Session One with Dr. David Roadcup 
NOON- Short Break, with Snacks
12:15 pm- Workshop: Special Memories of Growing Up at Round Lake with Marla Tipton & Mark Wesner
1:00 pm- Long Break with Snacks
1:45 pm- Music with Dave Mason
2:00 pm- Session Two with Dr. David Roadcup
2:30 pm- Break
2:45 pm- Camp Update with Lance Powers
3:00 pm- Choose Between: Camp Tour, Free Time or a Special Presentation
3:30 pm- Short Break
3:45 pm- Concert by the Bean Boys
4:15 pm- Closing Comments & Prayer
4:30 pm- Keenager Banquet