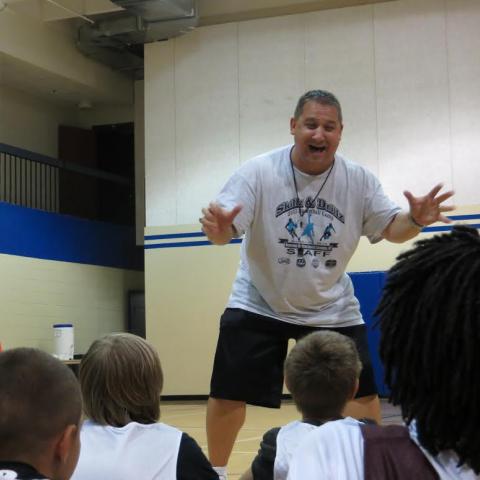 This event is closed. There are no more spaces left for boys. If you would like to be on the waiting list you must fill out the paper form with a deposit to reserve a spot on the waiting list. The waiting list will be in order of postmark. (deposit will not be submitted until the camper is accepted into the camp session)
Basketball Camp focuses on teaching the fundamentals-about Jesus Christ and basketball! Learn under some of the top Christian College players and coaches in the Midwest. Your day will be packed with drills, team games, individual contests, as well as favorites like campfire, evening worship and swimming. A large emphasis is placed on teaching sportsmanship and character as well.
Each camper will receive a basketball and reversible jersey (not guaranteed for registrations received by the camp office after Friday, July 7th). Trophies are awarded for individual and team accomplishments. Check-in takes place in the gym from 2:00-2:30 pm.
*Regular registration fee is $221. Price above reflects the early bird discount. Register early and receive the early bird rate of $196! Registrations submitted online up until 11:59 pm on Tuesday, July 18 are eligible for the early bird rate. Registrations must be postmarked July 18 or earlier to qualify for the early bird rate.